Jenkins Pipeline – The Expert Workshop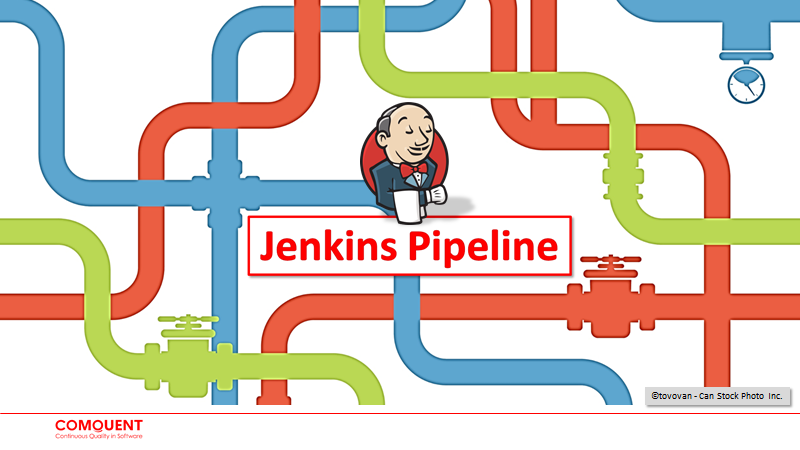 This is our Jenkins basic course.
The workshop takes two days.
The number of participants is limited to 7 persons.
The trainer is certified Jenkins Engineer.
You have first experiences with the Jenkins CI Server. And with the help of Jenkins Pipelines you are planning a decisive expansion of their continuous integration and delivery environment. This workshop will make your transition easier. The concept of Jenkins Pipelines (as Code) has significantly simplified Continuous Integration and Delivery.
Learn the basics of the Jenkins Pipeline. Get your first experience in scripted and declarative pipelines and get first-hand practical advice on how to use them.
Main topics of the workshop:
Pipeline structure and important commands
Scripted und declarative pipeline
File Handling, Error Handling, and Parallel Processing
Concept and usage of Shared Library
Best practices in the use of pipelines
Satisfied customers with our Jenkins courses
Die Jenkins Pipeline
Features des Jenkins 2
Groovy, Jenkins API und Plugins
Wichtige Sprachmittel der Pipeline
Pipeline Workspaces
Script Commands
sh, bat, powershell
Parameter und deren Anwendung
Beispiel und Übung
Sourcecode Checkout
SCM Anbindung in der Pipeline
Git, SVN, TFS
SCM Strategien und Jenkins
Beispiel und Übung
Parameters & Flow control
Pipeline Konfiguration, Trigger
Pipeline Parameter
Eingabe durch input
Pipelines verketten
File Handling
Wichtige und nützliche Sprachmittel
Austausch von Dateien
Archivieren von Artefakten
Beispiel und Übung
Error Handling
Eigenschaft und Zustand einer Pipeline
error und catchError
try / catch / finally
Best practices und Übung
Parallelisierung
Das Schlüsselwort parallel
parallel im code oder als Variable
Verteilung über Nodes
Best practices und Übung
Nebenläufigkeit
Motivation der Nebenläufigkeit
lock und Lockable Ressources
Milestones
Beispiel und praktische Übung
Shared Library
Arten von Libraries und deren Anwendung
Libraries im Jenkins konfigurieren
Libraries in der Pipeline verwenden
Beispiel und best practices
Praktische Übung
Pipeline Architektur und best practices
Pipelines im großen und komplexen Umgebungen
Best practices und Zusammenfassung
Public Trainings:

We carry out the training in our offices or at the premises of one of our partners. In addition to the seminar and practical exercises we offer:
Training material
Drinks, Fruits and Snacks
Lunch and Coffee Breaks
Certificate of Completion
In-house Course:

This training can be tailored to your requirements and/or your team's or company's needs.
Contact us and ask for your preferable Training's Date. We will be pleased to make you an offer.
Individual Coaching:

Do you want one of our trainers and consultant for a private coaching? This is feasible and gives you the chance to fine-tune the training to your requirements and needs.
For a special offer including your desired date, please contact us!